Air freight Forwarder
AIR Freight Forwarding for Import and Export
BGI has over 20 years of experience as an air freight forwarder. With our high standards and a broad range of services, you get one of the most committed and reliable forwarders handling your company's air cargo shipments.
We provide the highest level of personal and dedicated service for your urgent or just-in-time (JIT) air freight.
Call now for a free air freight quote
760-479-5475
You can rely on our top-quality cargo services along with our dedicated, professional, and courteous agents when you require the highest level of customer care and guidance to help you through the complex shipping process.
Every shipment is important to us. From the initial quote to delivery at the final destination, we handle the types of shipments that other companies can't or won't.
BGI is committed to providing you with unparalleled customer service and transparency for all of the commercial air freight shipping services we offer.
Whether you are importing and exporting your air cargo, we will be there to bring you the level of care and customer service you deserve.
Submit a request using our online form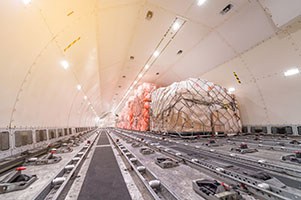 The right Forwarding Company
Whether you are importing goods from overseas, or exporting from the U.S., finding the right air freight forwarding company is critical to the success of your business.
As one of the top air freight forwarding companies in North America, BGI offers a complete range of air cargo services for shipments that need an expedited timeline.
Shipping by air decreases transit time and allows for greater inventory control for time-sensitive just-in-time or "JIT" manufacturing.
When shipping time is the highest priority you want our network of service partners and agents across North America, and at points around the world, handling your urgent air freight shipments.
If you need door-to-door or airport-to-airport service, or you have urgent shipments, dangerous goods, or special freight BGI can help.
GLOBAL Air Forwarder
With our worldwide network of partners, BGI can handle your air freight transportation needs from the airport to the final point of delivery.
We will assist you with all aspects of your shipments.
FROM DOOR-TO-DOOR OUR SERVICES INCLUDE:
government regulations
customs requirements
proper documentation
security initiatives
and stringent compliance guidelines
ACTUAL VS. DIMENSIONAL WEIGHT
Historically, shipping costs have been calculated based on the gross weight or actual weight in kilograms or pounds.
However, by charging only by weight, low-density packages become unprofitable for air cargo carriers due to the amount of space they take up in an aircraft.
For example, if a carrier charged the same for shipping a pound of feathers as they do for a pound of produce it would be unprofitable.
If a shipment is less than the minimum density of the industry standard, then the actual weight is not relevant and the freight carrier will charge based on dimensional weight.
Dimensional Weight as length x width x height / dimensional factor. Dimensional weight is also known as DIM weight, volumetric weight, and cubed weight.
In addition to providing air freight forwarding service with our reliable air carriers, BGI also offers a full array of options fortrucking and drayage services and warehousing and distribution services once your shipment has landed.
Your shipments are always monitored in the air and on the ground to ensure on-time delivery.
Got questions?
Call
760-479-5475
ACCREDITATIONS
BECOME A BGI PARTNER
CONTACT
US
2453 Lewis Avenue
Signal Hill, CA 90755
tel: 760-479-5475
fax: 562-597-4601