Incoterms® 2020 changes are in for the rules are the regulations that define the responsibilities of buyers and sellers operating in international trade. They are the rules for determining how costs and risks are allocated to each party involved. Incoterms rules are regularly incorporated into contracts for the sale of goods worldwide and have become part of the daily language of trade.
UPDATE to Incoterms® for 2020
International Chamber of Commerce (ICC) has launched Incoterms® 2020 with changes to some of the 11 Incoterms® trade terms. It considers the latest developments in commercial practice and updates the rules to make them more accessible and easier to use. The new rules became effective on 1 January 2020. As of this date, all sales contracts should make reference to the Incoterms® 2020 rules as the latest version of the Incoterms® rules.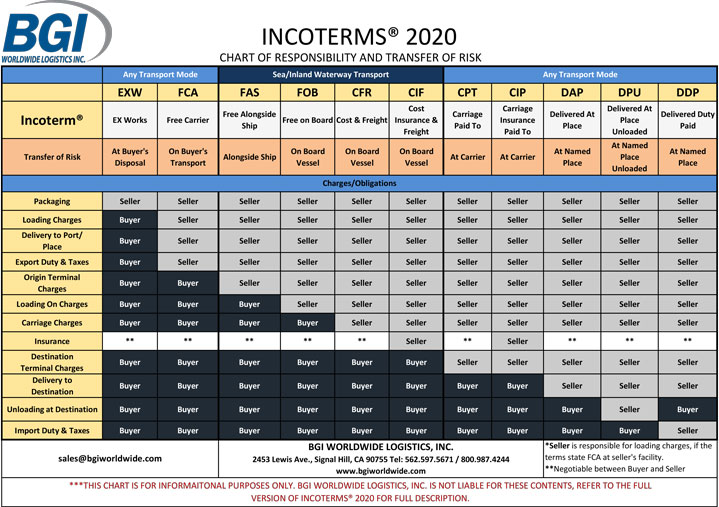 Differences between Incoterms® 2010 and 2020:
The Incoterms® FCA (Free Carrier) now provides the additional option to make an onboard notation on the Bill of Lading prior to loading of the goods on a vessel.
The costs now appear centralized in A9/B9 of each Incoterms® rule.
CIP now requires at least insurance with the minimum cover of the Institute Cargo Clause (A) (All risk, subject to itemized exclusions).
CIF requires at least insurance with the minimum cover of the Institute Cargo Clause (C) (Number of listed risks, subject to itemized exclusions).
Free Carrier (FCA), Delivered at Place (DAP), Delivered at Place Unloaded (DPU) and Delivered Duty Paid (DDP) now take into account that the goods may be carried without any third-party carrier being engaged, namely by using its own means of transportation.
The rule Delivered at Terminal (DAT) has been changed to Delivered at Place Unloaded (DPU) to clarify that the place of destination could be any place and not only a "terminal".
Incoterms® 2020 now explicitly shifts the responsibility of security-related requirements and ancillary costs to the seller.
Useful information
Incoterms® does not constitute a complete contract of sale, but rather becomes a part of it. For its application, the following structure should be used:
"[The chosen Incoterm® rule] [Named port, place or point] Incoterms® 2020"
Example: "CIF Shanghai Incoterms® 2020" or "DAP 10 Downing Street, London, Great Britain Incoterms® 2020"
If there is no year stated in the Incoterms® then the following applies:
until December 31st, 2019 the Incoterms® 2010 apply.
from January 1st, 2020 the Incoterms® 2020 apply.
If a different year is stated, e. g. Incoterms® 1980, then respective terms apply.
BGI is a certified, licensed, and bonded expert in freight transportation and logistics: Licensed by the Federal Maritime Commission (FMC) as a Non-Vessel Operating Common Carrier (NVOCC), Ocean Transportation Intermediary (OTI), Ocean Freight Forwarder, Licensed by the Department of Transportation (DOT), Licensed Property Broker. BGI is a Certified Member of the International Air Transportation Association (IATA), and Cargo Network Services (CNS).
For more information on BGI Worldwide Logistics call 800-987-4244
or email to sales@bgiworldwide.com