Ocean Freight
Ocean Freight Import & Export
Get top quality ocean freight import and export service to or from nearly any destination worldwide. BGI is a full-service ocean freight forwarder offering cost-effective, reliable, and innovative commercial ocean freight and customs brokerage solutions to deliver your products around the world. We provide import and export ocean shipping from all major ports and provide you with the flexibility to customize your supply chain to suit the needs of your business.
Working with the wrong ocean freight forwarder or broker can be frustrating, problematic, and can ultimately interfere with the success of your company. As a licensed NVOCC and a bonded ocean freight forwarder with over 20 years in business, BGI has the industry experience and the financial stability you can trust. Companies that rely on ocean freight in their supply chain need the peace of mind in knowing that they are choosing a dedicated and trusted logistics partner who will provide the highest level of transparency and customer care. When it comes to problems we specialize in coming up with solutions, not excuses. Experience the difference with BGI Worldwide Logistics.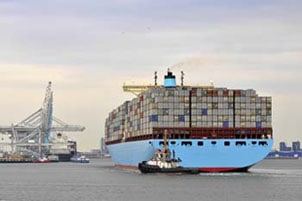 Ocean Freight Shipping Services
BGI offers a complete range of ocean import and export services for general ocean cargo, specialized items, oversized cargo, heavy equipment, hazardous materials (hazmat), and high-value commodities. We provide transit with carriers designed to handle specialized cargo, and for freight that doesn't conform to standard container sizes. BGI also offers domestic ocean shipping from any port of origin within North American territories and commonwealths.
FULL CONTAINER LOAD (FCL)
A full container load (FCL) is cargo moving in a single rigid, sealed, reusable metal container in which the merchandise is shipped by an ocean carrier. All containers will have construction fittings, or fastenings able to withstand permanent distortion and all stresses that may be applied in normal service use of continuous transportation. We can provide door-to-door service including drayage for full containers. FCL shipments can often be helpful in lowering shipping costs.
LESS THAN CONTAINER LOAD (LCL)
A less than container load (LCL) shipment is a shipment of cargo that does not fill a container and is merged with cargo for more than one consignee or from more than one shipper. LCL freight costs are based on a dollar amount per cubic meter. BGI's expert consolidation services can combine smaller shipments that are going to the same destination port providing you with reduced shipping costs. At the port of destination, we carefully de-consolidate the shipment and arrange delivery to the final destination.
BGI has an extensive network of FCL and LCL carriers who can accommodate almost any commercial shipment.
We offer standard 20′ and 40′ ocean shipping containers and the following specialized equipment for international import and export:
40′ & 45′ High Cube
20′ & 40′ Open Tops
20′ & 40′ Flat Racks
20′ & 40′ Reefers
45′ Standard
Need to see container specifications?
BGI provides services along the major trade lanes to the U.S. from:
Europe
China
Japan & Korea
Southeast Asia
Middle East: Israel, Jordan, Lebanon, UAE, Kuwait, Egypt & Turkey
India & Pakistan
South America & Central America
Australia & New Zealand
Call us if you have questions or want to find out more about BGI
800-987-4244
or Email Us with your request.
ACCREDITATIONS
BECOME A BGI PARTNER
CONTACT
US
2453 Lewis Avenue
Signal Hill, CA 90755
tel: 800-987-4244
fax: 562-597-4601